Het grootste online winkelcentrum
De meeste shops
Het grootste aanbod producten
Altijd de beste deal
NGS Roller Tempo Black - Portable Speaker Compatible with Bluetooth 5.0 Technology and TWS (USB/SD/AUX IN). Colour Black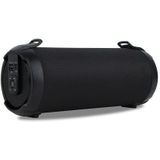 NGS Roller Tempo Black - Portable Speaker Compatible with Bluetooth 5.0 Technology and TWS (USB/SD/AUX IN). Colour Black
€41,99
Amazon.nl
Gratis verzending
Voor jou gevonden:
Speakers
Amazon zegt:

Ideal to take anywhere due to the fact that it is battery-operated, and it´s equipped with a removable shoulder strap to assist with carrying. The speaker is also equipped with 1500 mAh integrated battery that outstands for its long life, supporting up to 5 hours at 70% volume, 7 hrs at 50%. Amplify the sound, you can pair two devices simultaneously and increase the sound power thanks to its True Wireless Technology. This Bluetooth speaker is equipped with USB port, Micro SD card slot and Stereo Audio input to connect external devices.

Algemene productdetails

Signaaloverdracht

Bluetooth
Beslist.nl Zakelijk
Jouw webshop op beslist.nl
Partners voor webshops
Affiliate programma
Klanten login
Beslist.nl
Beslist.nl is het grootste online winkelcentrum van Nederland waar je zorgeloos, veilig en overzichtelijk producten kunt vergelijken en bestellen. Met ons ruime assortiment van miljoenen producten bieden we de consument een duidelijk overzicht wat er online te koop is en voor welke prijs zodat je de beste aanbiedingen kunt vinden. Zo is het bij ons altijd sale. Ben je op zoek naar goedkope outlets, vraag je je af of je dat nieuwe product in de aanbieding kunt kopen of wil je een prijsvergelijking doen; online shoppen begint bij beslist.nl. Ook als je producten wilt kopen met een snelle levertijd en een goedkope prijs.
De prijzen van de getoonde producten op beslist.nl zijn incl. BTW en exclusief eventueel bijkomende verzendkosten.